Steel pressure vessels for Hydrogen stations (HyST300)
1. HyST300 model S
HyST300 model S has superior fatigue durability under cyclic operation and no limitation of useable years. Variable volume capacities, sizes and design codes (KHK or ASME) can be applied by customer's request.
Feature
◇ Superior fatigue performance under high pressure hydrogen
JSW's high purity, high hardenability ASME SA-723M steel demonstrated that fatique limit is not affected by hydrogen.
◇ High durability based on non-destructive inspection
Magnetic particle testing (MT) JIS Z2320 for entire internal surface is applied.
We make sure that there is no such a small surface defect existing on the internal surface before shipping.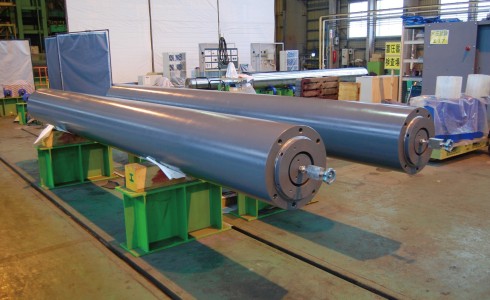 2. HyST300 model R
HyST300 model R is a pressure vessel with world's highest level durability, whose usable fatigue life marks over 300K cycle.
Fearture
◇ Cr-Mo seamless pipe contributes for superior performance under high pressure gaseous hydrogen environment.
Fatigue strength and life in hydrogen is equivalent to our conventional SA723M steel.
Both spherical head and center of prodect demonstrate superior and homogeneous hardness distribution.
◇Both low cost and elimination of wrinkles are achieved by squeezed shape and wide bore.
Wrinkles of spherical head are eliminated easily by finishing.
Reliability of interior surface is ensured by non-destructive inspection of interior surface.

Hydrogen storage tanks using Hydrogen absorbing alloys (Metal Hydride: MH)
Hydrogen absorbing alloys have the advantages of storing hydrogen safely, compactly at low pressure. MH application contribute to promotion of hydrogen energy society.
1. Hydogen Absorbing Alloy : Hydrage™
JSW makes MH powder more safety and reliability with original technology.
Feature
◇ No limitation of MH quantity under the Fire Services Law
◇ High packing dencity
Hydogen Absorbing Alloy
Hydrage™
2. Metal Hydride Tanks
MH Tanks are used in many fields due to the flexibility in design based on our extensive experiences.
Features
◇ Safe storage of Hydrogen at low pressure
◇ Flexible disign for various applications
Large MH tanks for Stationary Use (storage capacity: 1,000Nm³)
APF MH Tanks for Stationary Use (storage capacity: 1,000Nm³)
Automatic Hydrogen Charging System
Standard Small MH Tanks